Tournament rules
Each Weekly "Cool Pick's Challenge" consists of all games that are played between Thursday and Monday Nights Games. All Picks for each match must be submitted before each match's kickoff in order for your picks/points to be eligible for the weekly prizes and be added to your point total on the leaderboard. Since Football Games are split into 4 Quarters, we have decided to do the same thing and split the prizes for "Cool Pick's Challenge" into 4 quarters as well in order to spread out our prizes.
1. The campaign is open for customers from Canada
2. Campaign period: September 5th 2019 – December 30th 2019.
3. Participation in the game is free.
4. Quarterly Leaderboard points are calculated using total points accumulated between the following weeks:
Quarter 1 - Weeks 1-4
Quarter 2 - Weeks 5-8
Quarter 3 - Weeks 9-12
Quarter 4 - Weeks 13-17
4.1 At the end of each quarter the Leaderboard will re-set to 0 for all players as the best score from each quarter (1 – 2 – 3) will receive a Special quarterly prize as a bonus for scoring the most points in that quarter.
4.2 The overall Season Winner (4th Quarter) will be decided after all points from each player have been added together over the full season of weeks 1-17.
4.3 In the event that more than 1 person has the same score for the weekly, quarterly or season competition, the player who picked the most correct "Exact Results" will be determined the winner. In case more than 1 person still has the same score, the player with most correct "Score Difference" predictions will be determined the winner.
5.1 Weekly Prizes: Top 3 scores for weeks (1 – 3, 5 – 7, 9 – 12, 13 – 16) of each quarter will receive*:
1st place - Coolbet Swag Bag consisting of a Special Edition Cool Pick Hoodie, T-shirt & toque.
2nd place - Coolbet Hoodie & Toque
3rd place - Coolbet Long Arm T-Shirt
*(Prizes may change based on availability)
5.2 Players are only eligible to win and receive one (1st – 2nd or 3rd place) prize per quarter during the competition.
5.3 Quarterly Prizes: The player with the most points accumulated on the Leadeboard for each quarter will receive a Special bonus Prize (to be determined each quarter) with minimum prize value $250.
5.4 Grand Prize: includes 1 Coolbet Reclining Chair and a 55'' Television. (Most points at the end of the season).

6. All games, competitions and promotions found on Coolbet.ca are Free to Play. There is never a fee or cash deposit required to join.
7. There are no links to real money games and there are no cash prizes to be won.
8. Only 1 player per household can take part in the game. In case of cookie and/or IP matches, Coolbet reserves the right to exclude specific players from this game.
9. Coolbet reserves the right to change these terms and conditions at any time without prior notice. In the event that any changes are made, the revised terms and conditions shall be posted on this website immediately.
10. By participating in any competition or promotion, you (the player) agree that if you win any Stage or Grand Prize for the the campain, Coolbet reserves the right to (at no cost) use your name on coolbet.ca and other forms of media for marketing purposes.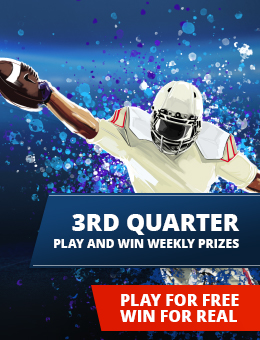 HERE'S HOW IT WORKS:
Register and log in before you can play.
Predict "How Many Points" each team will score for all games that Week. You have a chance to win weekly, monthly and overall season prizes.
Here's how You get points:
Winner & Score difference
–
10
points
This round has already ended
Get ready for our next round
Predict match score and win prizes
day
hours
minutes
seconds

class="jswprediction_round-template-default single single-jswprediction_round postid-317 logged-in admin-bar omize-support"
Submit your predictions before time runs out
Prediction round is closed
Coolbet.co uses cookies to improve website performance and enhance your user experience. If you're comfortable with this, just continue using the site as normal. Should you require more information about cookie usage just click here.