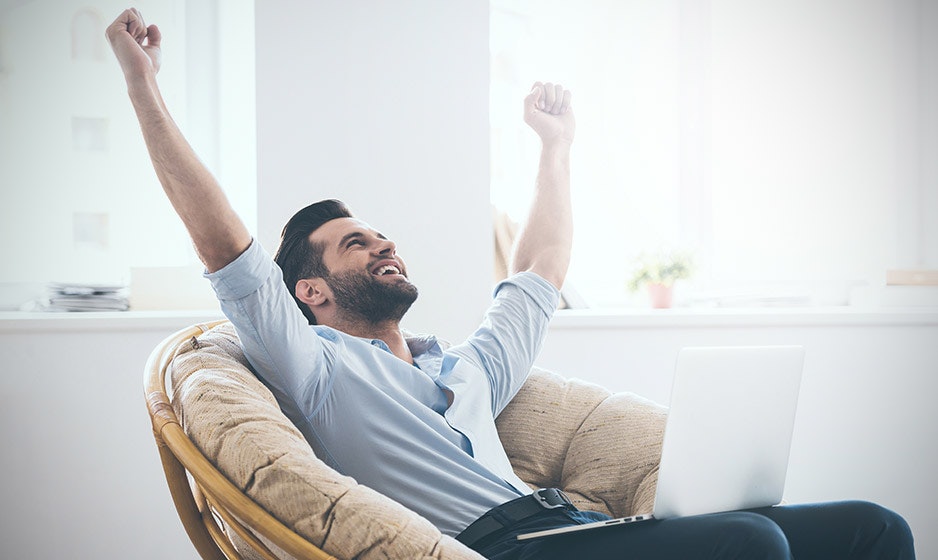 Betting School #2: The 10 greatest sports betting wins
There are a lot of similarities between betting on sports and actually playing sports.
Luck is important, but ultimately you need skill to win consistently.
The world of sport betting has its stars too. Some were very lucky, but most achieved their success through careful analysis and risk assessment.
Here's 10 of their greatest ever sports betting wins.
10. Mali's remarkable comeback
Few expected Mali to avoid defeat when they faced hosts Angola at the African Cup of Nations in 2010. With 11 minutes left on the clock, Mali was 4-0 down and the outcome looked certain.
However, one ambitious sports punter didn't agree and quickly placed a £5 bet on Mali to draw level by full time. By the 90th minute, the score was unchanged and the Angolan fans were already celebrating victory.
Then the remarkable happened. Mali scored 4 goals in injury time and pulled off one of the most stunning comebacks in football history. No one was celebrating more than the unknown gambler who picked up £5,000 as a result of his intuition.
9. Adrian Hayward takes a long shot on a long shot
It's 2006 and Liverpool is playing Luton Town in the 3rd round of the FA Cup.
Liverpool were leading in the final minutes so Luton risked everything to level the game, including sending their goalkeeper deep into the other half.
Suddenly, Xabi Alonso took the ball for Liverpool in his own half and saw the open goal at the other end of the field. He then scored this remarkable goal to help Liverpool win 5 – 3.
The Liverpool fans were ecstatic, but no one was happier than Adrian Hayward.
The previous year he had a dream that Xabi Alonso would score from his own half so walked into a bookmaker and placed £200 on it. They gave him odds of 125 on it happening sometime before the end of the season and assumed they would never hear from him again about the bet.
The goal earned him £25,000.
8. Gerry McIlroy uses his fatherly intuition
Sports stars aren't allowed to bet on themselves for obvious reasons. Their parents can, however.
Gerry McIlroy's 15 year old son Rory was a budding golfer so Gerry bet £200 that he would win the British Open within ten years. He was given odds of 500 to 1 on the unusual bet and some of his friends were so impressed by his confidence that they placed bets too.
Rory McIlroy won the British Open in 2014 and the bookmaker confirmed in a tweet that they would be paying out £100,000 to his father and further £80,000 to his friends.
7. A dream comes true for Fred Craggs
It's fair to say that Fred Craggs from Yorkshire probably didn't think too carefully about the horses he was choosing one day in 2008. Fortunately, he was only making a 50 pence bet.
It was his 60th birthday and he opted for an eight horse accumulator, selecting horses including A Dream Come True, Isn't That Lucky and Racer Forever. One thing they all had in common, apart from ambitious names, was extremely long odds.
The bookmakers offered him 2,000,000. Yes, that is 2 million in odds …
At races across the country, every horse came in as Fred Graggs predicted and his 50 pence stake turned into a £1 million payout.
6. The fan who didn't give up
The odds are often skewed by passionate fans who'll bet on their team no matter what. Sometimes, it pays off for them though.
In 2011, one anonymous baseball fan bet $250 that the St. Louis Cardinals would make the World Series at odds of 500. This person then bet another $125 that they would win the World Series at 999 in odds.
The Cardinals hardly looked impressive at the time of the bet, but soon started winning games at a surprisingly consistent rate. They ended the year as the most unlikely World Series champions and the fan picked up $375,000 in return for his faith.
5. Nick Newlife leaves a charitable legacy
Nick Newlife didn't bet on Roger Federer to win his first Wimbledon title in 2003, but he was keen not to miss out in future.
Not content with just betting on one Wimbledon tournament however, Newlife was given odds of 66 on Federer winning six more titles by 2019. He placed £1,520, which resulted in a payout of £101,840 when Federer defeated Andy Murray in 2012.
Unfortunately, Newlife never saw his prediction come true as he passed away three years earlier. However, he left the betting slip in his will to the charity Oxfam who collected the winnings instead.
4. Richard Hopkins spots a rising star
Some bets take time to pay off.
Richard Hopkins of Peterborough in England won £165,000 by betting that Lewis Hamilton would win both a Formula 1 Grand Prix and a World Championship.
He was able to get great odds because he made the prediction when Hamilton was just 13 years old.
Hopkins spotted Hamilton's obvious talent when he was racing go-carts against his son and decided to place £200 on Hamilton winning a Grand Prix by the age of 23 at odds 200, £100 on Hamilton winning the World Championship by the age of 25 at 500 in odds, and a further £50 on both events happening at odds 1,500.
All his predictions came true in 2008 when Hamilton won his first F1 World Championship by a single point.
3. Darren Yates predicts the magnificent seven
28 September 1996 was an infamous day at Ascot racecourse in England.
Franki Dettori was a popular jockey and a favorite with many punters, although one person who didn't agree about his chances that day was Dettori himself. Interviewed before the first of his seven races, Dettori said that it was possible he could maybe win two of them.
Many punters bet on Dettori anyway, including Darren Yates who put down £67.58 and decided to combine all seven of his races into a single bet that Dettori would win them all.
Yates was a struggling businessman with a small carpentry business so needed a change of fortune. After place the bet, Dettori went off to play football with his friends and lost the game 4 – 0.
Thinking it wasn't his day, he then went to check on Dettori's races and discovered that Dettori had won all seven. There were many winners that day at Ascot but no one earned more than Yates who picked up £550,823.
2. Mick Gibbs accumulates a fortune
Mick Gibbs is a roofer by profession, constructing and repairing roofs across Staffordshire in England. That's not his only skill however.
Gibbs also has an eye for winning accumulator bets. His first big win came in 1999 when he bet £2.50 and correctly predicted nine football games across Europe. That earned him £157,000.
That's small change compared to his next big win however. In 2001, Gibbs bet 30 pence to predict the winners of 15 football games across Europe and was given odds of 1,666,666.
The first 14 games went exactly as Gibbs predicted so everything now depended on a Champions League match in which Bayern Munich would need to beat Valencia. The game ended in penalties.
The last kick of the game was from Valencia defender Mauricio Pellegrino, but the moment the ball landed in the hands of Bayern Munich's goalkeeper, Gibbs was £500,000 richer. Not bad for a 30 pence stake.
1. Billy Walters shows why he's the greatest sports punter
Bill Walters used to be a professional poker player before using his skills as a professional sports punter instead.
Over nearly four decades, Walters has bet more money than anyone else in history and continued a winning streak that has earned him hundreds of millions of dollars.
He's living proof that sport betting is a game of skill. Like poker, Walters explains that winning sports punters have to analyze information then calculate risk and potential profits.
In an interview with CBS News, Walters described his biggest and most audacious bet of all time. The New Orleans Saints were playing the Indianapolis Colts at the Super Bowl in 2010 and the consensus was that New Orleans were the underdogs.
Walters analyzed all the information he had and discovered that it actually favored New Orleans as the most likely winners. He looked at the odds, calculated the risk and potential profit then decided to bet big.
Walters bet $3.5 million on the supposed underdogs and New Orleans didn't let him down. They defeated the colts 31 – 17 to win their first ever Super Bowl.
How much did Bill win?
No one knows, but given that the Saints were the underdogs, we're sure he made a pretty penny off this single bet.
Conclusion
You need luck to win any single bet, but consistently winning sport bets over time is possible with skill, experience and hard work.
These are some of the most well-known sport betters because they won big on a single occasion and stories were told to the media.
But there are many more sport betters who win consistently that you may never hear about it. Many of them even make a career out of it. Perhaps you are one of them?
What's your greatest sports betting win?
Share your story with us on Facebook!