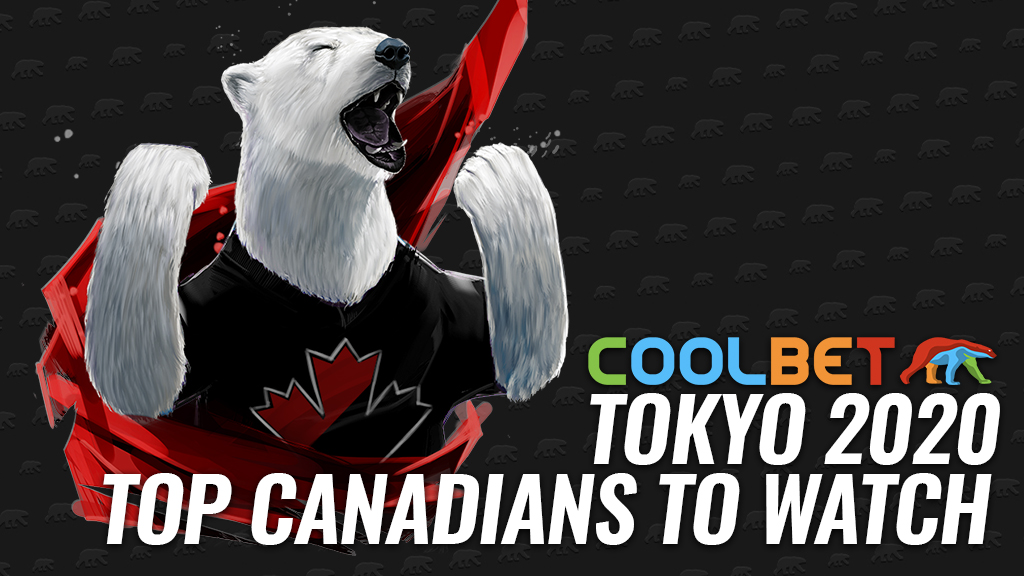 Tokyo 2020 – Top Canadians to Watch
By Jake Bolin Moss

Canada will be sending their most participants to a Summer Olympics since 1984 in Los Angeles, when 371 athletes officially kick off the games on July 23rd and here are some of Canada's top favourites to medal at Tokyo 2020:
Kylie Masse – Swimming
100m Backstroke Winner: +275 (July 27th)
200m Backstroke Winner: +500 (July 30th)
Masse is a Windsor, Ontario native who competed in her first Olympics back at Rio 2016 where she picked up a bronze medal in the 100m Backstroke. Following Rio, she would go on to win gold medals in the same event at both the 2017 and 2019 FINA World Championships, becoming the first Canadian swimmer to ever achieve this feat. Now, she will have her eyes set on another podium at Tokyo 2020.
Penny Oleksiak – Swimming
100m Freestyle Winner: +650 (July 30th)
200m Freestyle Winner: +5000 (July 28th)
Toronto's very own Penny Oleksiak returns to the Olympic stage in Tokyo after her historic debut at Rio 2016 where she picked up four medals including a gold in the 100m Freestyle. She would go on to be named Canada's Closing Ceremony flag bearer in Rio, followed by winning the Lou Marsh and Bobbie Rosenfeld Awards. Oleksiak will look to catch lightning in a bottle once again as her events get underway in Tokyo.
Canadian National Team – Swimming (Women)
4x100m Freestyle Relay: +1700 (July 25th)
4x200m Freestyle Relay: +1000 (July 29th)
The Women's 4x100m and 4x200m swim teams brought home bronze medals in both their events back at Rio 2016. At Tokyo 2020 they enter as the third highest favourites behind Australia and the USA, with hopes of reaching the podium once again.
Canadian National Team – Football Women
Winner: +1400
Group E Winner: +400
Top 3: +225
The Canadian National Women's Football (Soccer) Team is coming off back-to-back Olympic bronze medals at London and Rio. This year, Christine Sinclair and company will be looking to collect their third straight medal when they start group play on July 21st. They come into Toyko as the seventh ranked team in terms of odds and third ranked to win their tough four-team division that includes Great Britain, Japan and Chile.
Canadian National Team – Women's Rugby 7s
Winner: +800
Top 3: -105
Pool B Winner: -161
The Canadian Women's Rugby Team showed up and showed out in their inaugural debut at Rio 2016, winning a bronze medal lead by the tournament's second leading scorer Ghislaine Landry. Now, Landry and crew will look to improve their result from five years ago in Tokyo when they get going on July 29th. They enter the 2020 Olympics as the number three favourites to win the gold and lead favourites in Pool B which features France, Fiji and Brazil. 
Canadian National Team – Softball
Winner: +1000 
Softball returns to the Olympics for the fifth time at Tokyo 2020. Canada has yet to medal in softball at the Olympics but does have a number of medals at the Pan American Games including a gold at Toronto 2015. They are currently the third favourite to win the gold behind the USA (-182) and Japan (+220). They began play on July 21st with the medal round wrapping up on July 27th.
Canadian National Team – Canoe Double 500m Sprint
Winner: +600
Top 3: +150
Canada's C2 500m Sprint team will be made up of Katie Vincent and C1 200m medal hopeful Laurence Vincent Lapointe. The two hold the world record in the event with a mark of 51.428 seconds. This will be the Olympic debut for the Canoe Sprint and poses as a great opportunity for Canada to bring home some hardware. The medal round for the team competition is set to go on August 7th.
Laurence Vincent Lapointe – Canoe Single 200m Sprint
Winner: +175
Top 3: -250
Vincent Lapointe is one of Canada's top medal hopefuls at Tokyo 2020. She currently holds top odds to win the C1 200m Sprint with America's Nevin Harrison (+175). The 29-year-old's international resume is glowing, winning three golds at the 2018 ICF World Championships, two golds at the 2017 ICF World Championships and another gold at the Toronto 2015 Pan American Games. She set the world record in this event with a time of 44.504 and hopes to top that in Tokyo. The medal round for this event will take place on August 5th.
Andre De Grasse – 100m Men
Winner: +700 (August 1st)
One of the most memorable Canadian moments from Rio 2016 was Andre De Grasse's performance in the sprints. The young runner became the first Canadian to medal in all three sprint events picking up bronze in the 100m and 4x100m along with a silver in the 200m. De Grasse is coming off two podiums at the World Athletics Championships from 2019 (silver & bronze) and will be looking to continue his successes at Tokyo 2020. He comes into the 100m race as the third favourite to win. 
Skylar Park – 57kg Taekwondo (Women)
Winner: +1200
Top 2: +575
Top 4: +185
Tokyo 2020 will act as the inaugural Olympic Games for Winnipeg native Skylar Park. The 22-year-old comes into this event off two 2019 medals, a silver at the Pan American Games in Lima and a bronze at the Taekwondo World Championships. Park comes into her 57kg event as the fifth favourite amongst betting options.
Erica Wiebe – 75kg Freestyle Wrestling (Women)
Winner: +300
Coming off an Olympic gold at Rio 2016, Erica Wiebe of Calgary is hoping to carry over that performance level to Tokyo. However, she heads into these games having battled a number of injuries from the 2019 season, but she did manage to pick up a gold medal in 2020 at the Matteo Pellicone Tournament. Oddsmakers have her ranked as the second favourite to win her division behind American Adeline Gray (-118).
Felix Auger-Aliassime – Tennis Men's Singles
Winner: +6000
To Reach Final: +2300
Top 3: +1100
The ATP Tour world number 15 will be in action at Tokyo 2020 with a tough first draw against two-time Olympic gold medalist Andy Murray. The Montreal product will be making his first appearance at the Olympics coming off his best finish at a grand slam when he was knocked out of the quarterfinals at Wimbledon. Now the 20-year-old Canadian is set on leaving his mark on the international stage, coming in as the eighth betting favourite to win it all.
Brooke Henderson – Women's Golf
Henderson will be teeing it up at her second Olympic games when she arrives in Tokyo. The 10-time LPGA Tour winner is coming off a T-7 at Rio 2016 and will look to use her experience to improve that result. She is currently competing in the Evian Championship in France before heading to Tokyo for the start of the Women's tournament on August 4th.
Corey Conners – Men's Golf
Winner: +3400 (July 29th – August 1st)
The top ranked Canadian in the Tokyo 2020 Olympic field is Corey Conners. The one-time PGA champion is coming off a top-20 finish at the Open Championship and is the 14th ranked player to win gold by oddsmakers standards. The unpredictability of golf is what brings the excitement, knowing anyone can get hot over a four-day span.
Mackenzie Hughes – Men's Golf
Winner: +7900 (July 29th – August 1st)
At the ripe age of 30, Mackenzie Hughes will make his Olympic golf debut at Tokyo 2020. The former PGA Tour winner will be looking to make a splash for his country in a year where he's made some of his best finishes at the high-profile tournaments. He is recently coming off a T-6 finish at the Open Championship, golf's last major of the season.