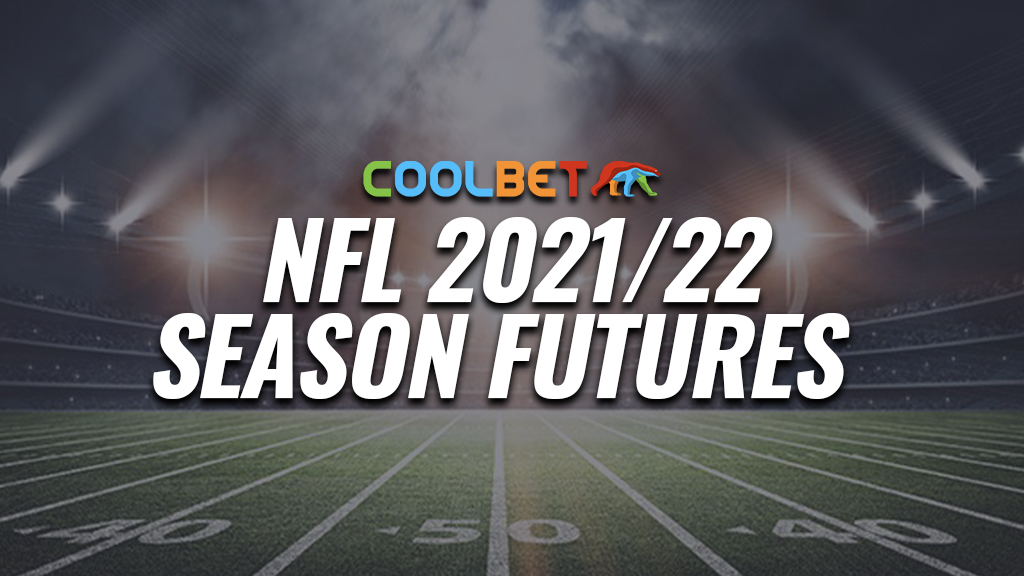 NFL 2021/22 Season Futures
It's almost time for NFL football and over at Coolbet we have Super Bowl, Conference and Divisional odds, on top of many other individual props for the 2021 season. With fans returning to stadiums in greater capacities for the 2021 season, home-field advantage becomes much more important for every team. Study the schedules and updated rosters to find what picks you value for one of the most popular professional sports leagues in North America.
After back-to-back Super Bowl trips including a victory at LIV, Patrick Mahomes and the Kansas City Chiefs (+500) are top favourites to win the Lombardi Trophy ahead of this season's play. The defending champion Tampa Bay Buccaneers (+700), who will return all 22 Super Bowl starters from last season, sit in second position, and lead the betting odds for the NFC (+300).
NFL – Super Bowl LVI Winner
Kansas City Chiefs +500
Tampa Bay Buccaneers +700
Buffalo Bills +1200
Green Bay Packers +1400
Cleveland Browns +1400
Baltimore Ravens +1400
San Francisco 49ers +1400
Los Angeles Rams +1600
New England Patriots +2500
Tennessee Titans +2500
Seattle Seahawks +2500
New Orleans Saints +3000
Miami Dolphins +3000
Dallas Cowboys +3000
Indianapolis Colts +3200
Arizona Cardinals +3200
Minnesota Vikings +3400
Los Angeles Chargers +3400
Pittsburgh Steelers +3400
Denver Broncos +4000
New York Giants +6500
Atlanta Falcons +6500
Chicago Bears +6500
Washington Football Team +6500
Carolina Panthers +8000
Las Vegas Raiders +8000
New York Jets +10000
Philadelphia Eagles +10000
Cincinnati Bengals +10000
Jacksonville Jaguars +10000
Houston Texans +15000
Detroit Lions +15000
Conference
NFL – AFC Conference Winner
Kansas City Chiefs +235
Buffalo Bills +600
Baltimore Ravens +700
Cleveland Browns +800
New England Patriots +1200
Tennessee Titans +1200
Miami Dolphins +1400
Los Angeles Chargers +1600
Indianapolis Colts +1600
Denver Broncos +1800
Pittsburgh Steelers +1800
Las Vegas Raiders +3200
Jacksonville Jaguars +4000
New York Jets +5000
Cincinnati Bengals +5000
Houston Texans +15000
AFC Conference #1 Seed
Kansas City Chiefs +150
Buffalo Bills +425
Baltimore Ravens +525
Cleveland Browns +700
New England Patriots +1200
Tennessee Titans +1400
Miami Dolphins +2000
Los Angeles Chargers +2000
Indianapolis Colts +2000
Denver Broncos +4000
Pittsburgh Steelers +5000
Las Vegas Raiders +10000
Jacksonville Jaguars +12500
New York Jets +15000
Cincinnati Bengals +15000
Houston Texans +50000
NFL – NFC Conference Winner
Tampa Bay Buccaneers +300
Green Bay Packers +500
San Francisco 49ers +525
Los Angeles Rams +700
Seattle Seahawks +1200
Dallas Cowboys +1400
New Orleans Saints +2000
Minnesota Vikings +2000
Arizona Cardinals +2000
Atlanta Falcons +2500
Chicago Bears +2500
Washington Football Team +2500
New York Giants +2700
Carolina Panthers +2800
Philadelphia Eagles +3500
Detroit Lions +5000
NFC Conference #1 Seed
Tampa Bay Buccaneers +225
Green Bay Packers +335
San Francisco 49ers +475
Los Angeles Rams +600
Seattle Seahawks +1000
Dallas Cowboys +1200
Minnesota Vikings +2000
New Orleans Saints +2500
Arizona Cardinals +3500
Atlanta Falcons +4000
Washington Football Team +5000
Carolina Panthers +6500
Chicago Bears +6500
New York Giants +8000
Philadelphia Eagles +10000
Detroit Lions +30000
Team Playoffs
To Make the Playoffs (Including Wildcard)
Kansas City Chiefs -1000
Tampa Bay Buccaneers -667
Buffalo Bills -333
Green Bay Packers -303
Baltimore Ravens -303
Cleveland Browns -250
San Francisco 49ers -192
Tennessee Titans -167
Los Angeles Rams -167
Dallas Cowboys -154
Seattle Seahawks -118
Indianapolis Colts -110
New England Patriots +102
Minnesota Vikings +102
New Orleans Saints +105
Los Angeles Chargers +130
Miami Dolphins +140
Pittsburgh Steelers +165
Washington Football Team +170
Arizona Cardinals +180
Atlanta Falcons +190
Chicago Bears +190
New York Giants +200
Denver Broncos +200
Carolina Panthers +245
Philadelphia Eagles +255
Las Vegas Raiders +290
Jacksonville Jaguars +320
New York Jets +450
Cincinnati Bengals +500
Detroit Lions +565
Houston Texans +770
To Miss the Playoffs (Including Wildcard)
Houston Texans -1429
Detroit Lions -909
Cincinnati Bengals -769
New York Jets -667
Jacksonville Jaguars -435
Las Vegas Raiders -385
Philadelphia Eagles -333
Carolina Panthers -323
New York Giants -250
Denver Broncos -250
Atlanta Falcons -238
Chicago Bears -238
Arizona Cardinals -227
Washington Football Team -227
Pittsburgh Steelers -208
Miami Dolphins -172
Los Angeles Chargers -161
New Orleans Saints -128
New England Patriots -125
Minnesota Vikings -125
Indianapolis Colts -110
Seattle Seahawks -104
Dallas Cowboys +125
Tennessee Titans +135
Los Angeles Rams +135
San Francisco 49ers +155
Cleveland Browns +200
Green Bay Packers +235
Baltimore Ravens +235
Buffalo Bills +255
Tampa Bay Buccaneers +450
Kansas City Chiefs +600
Division
NFL – AFC East Division Winner
Buffalo Bills -143
New England Patriots +290
Miami Dolphins +415
New York Jets +2200
NFL – AFC North Division Winner
Baltimore Ravens +115
Cleveland Browns +140
Pittsburgh Steelers +500
Cincinnati Bengals +2800
NFL – AFC South Division Winner
Tennessee Titans -125
Indianapolis Colts +155
Jacksonville Jaguars +800
Houston Texans +3200
NFL – AFC West Division Winner
Kansas City Chiefs -286
Los Angeles Chargers +450
Denver Broncos +850
Las Vegas Raiders +1800
NFL – NFC East Division Winner
Dallas Cowboys +140
Washington Football Team +275
New York Giants +365
Philadelphia Eagles +450
NFL – NFC North Division Winner
Green Bay Packers -135
Minnesota Vikings +210
Chicago Bears +575
Detroit Lions +2500
NFL – NFC South Division Winner
Tampa Bay Buccaneers -250
New Orleans Saints +400
Atlanta Falcons +900
Carolina Panthers +1400
NFL – NFC West Division Winner
Los Angeles Rams +165
San Francisco 49ers +215
Seattle Seahawks +285
Arizona Cardinals +675
Regular Season Wins
Arizona Cardinals Regular Season Wins Over/Under 8
Over -128
Under +105
New England Patriots Regular Season Wins Over/Under 9.5
Over -139
Under +113
Seattle Seahawks Regular Season Wins Over/Under 10
Over +100
Under -122
Green Bay Packers Regular Season Wins Over/Under 10.5
Over -122
Under +100
Dallas Cowboys Regular Season Wins Over/Under 9.5
Over -116
Under -105
Atlanta Falcons Regular Season Wins Over/Under 8
Over +116
Under -143
Pittsburgh Steelers Regular Season Wins Over/Under 8.5
Over +120
Under -147
Las Vegas Raiders Regular Season Wins Over/Under 7
Over -122
Under +100
New York Giants Regular Season Wins Over/Under 7
Over -122
Under +100
Denver Broncos Regular Season Wins Over/Under 8.5
Over -122
Under +100
Houston Texans Regular Season Wins Over/Under 4
Over -104
Under -118
Carolina Panthers Regular Season Wins Over/Under 7.5
Over +100
Under -122
Kansas City Chiefs Regular Season Wins Over/Under 12.5
Over +100
Under -122
Indianapolis Colts Regular Season Wins Over/Under 9
Over -128
Under +105
Minnesota Vikings Regular Season Wins Over/Under 9
Over -110
Under -110
Tampa Bay Buccaneers Regular Season Wins Over/Under 11.5
Over -161
Under +131
Baltimore Ravens Regular Season Wins Over/Under 10.5
Over -161
Under +131
Detroit Lions Regular Season Wins Over/Under 5
Over +100
Under -122
Philadelphia Eagles Regular Season Wins Over/Under 6.5
Over -143
Under +116
New Orleans Saints Regular Season Wins Over/Under 9
Over -110
Under -110
Tennessee Titans Regular Season Wins Over/Under 9.5
Over -118
Under -104
Cincinnati Bengals Regular Season Wins Over/Under 6
Over -125
Under +102
Los Angeles Chargers Regular Season Wins Over/Under 9.5
Over +102
Under -125
Miami Dolphins Regular Season Wins Over/Under 9
Over -139
Under +113
Jacksonville Jaguars Regular Season Wins Over/Under 6.5
Over +120
Under -147
Buffalo Bills Regular Season Wins Over/Under 11
Over -110
Under -110
Los Angeles Rams Regular Season Wins Over/Under 10
Over -143
Under +116
Chicago Bears Regular Season Wins Over/Under 7.5
Over +100
Under -122
New York Jets Regular Season Wins Over/Under 6
Over -110
Under -110
Cleveland Browns Regular Season Wins Over/Under 10.5
Over +100
Under -122
San Francisco 49ers Regular Season Wins Over/Under 10.5
Over -104
Under -118
Washington Football Team Regular Season Wins Over/Under 8.5
Over -110
Under -110
Specials
Tampa Bay Buccaneers to go 20-0
Yes +6500
Hustler Special – Patrick Mahomes Revenge Tour – Kansas City Chiefs to go 20-0
Yes +5500
Awards
Regular Season – MVP
Patrick Mahomes +500
Aaron Rodgers +900
Tom Brady +1200
Josh Allen +1200
Matthew Stafford +1400
Russell Wilson +1600
Lamar Jackson +1600
Dak Prescott +1800
Justin Herbert +2000
Kyler Murray +2200
Ryan Tannehill +3000
Deshaun Watson +3000
Baker Mayfield +3000
Jameis Winston +4000
Matt Ryan +5000
Kirk Cousins +5000
Derrick Henry +5000
Christian McCaffrey +5000
Joe Burrow +5000
Cam Newton +6500
Derek Carr +6500
Nick Chubb +6500
Trevor Lawrence +6500
Jalen Hurts +6500
Tua Tagovailoa +6500
Dalvin Cook +8000
Jordan Love +8000
Ryan Fitzpatrick +10000
Jimmy Garoppolo +10000
Ben Roethlisberger +10000
Carson Wentz +10000
Alvin Kamara +10000
Saquon Barkley +10000
Daniel Jones +10000
Teddy Bridgewater +12500
Tyrod Taylor +12500
Aaron Donald +12500
Ezekiel Elliott +12500
Jared Goff +12500
Myles Garrett +12500
Taysom Hill +12500
George Kittle +12500
Sam Darnold +12500
Zach Wilson +12500
Jonathan Taylor +12500
Justin Fields +12500
Trey Lance +12500
Stefon Diggs +15000
Travis Kelce +15000
Darren Waller +15000
DeAndre Hopkins +15000
Davante Adams +15000
Michael Thomas +15000
Tyreek Hill +15000
Aaron Jones +15000
Drew Lock +15000
Julio Jones +20000
Mike Evans +20000
Khalil Mack +20000
Allen Robinson +20000
Joey Bosa +20000
Najee Harris +20000
Joe Mixon +20000
Cooper Kupp +20000
Calvin Ridley +20000
A.J. Brown +20000
D.K. Metcalf +20000
Cam Akers +20000
Justin Jefferson +20000
David Johnson +25000
Odell Beckham Jr +25000
Keenan Allen +25000
Leonard Fournette +25000
Austin Ekeler +25000
Terry McLaurin +25000
Josh Jacobs +25000
J.K. Dobbins +25000
David Montgomery +30000
Antonio Gibson +30000
Clyde Edwards-Helaire +30000
Defensive Player of the Year
Myles Garrett +320
Aaron Donald +500
Chase Young +600
T.J. Watt +1200
Nick Bosa +1900
Devin White +2300
Khalil Mack +3000
Joey Bosa +3000
Derwin James +3000
Shaquil Barrett +3500
Bobby Wagner +3500
Bradley Chubb +3500
Darius Leonard +3500
Jalen Ramsey +3500
Minkah Fitzpatrick +3500
Von Miller +4500
Danielle Hunter +4500
Chris Jones +4500
DeMarcus Lawrence +4500
Stephon Gilmore +4500
Jamal Adams +4500
Brian Burns +4500
J.J. Watt +4500
Marcus Peters +4500
Tre'Davious White +4500
Xavien Howard +4500
Chandler Jones +4500
Za'Darius Smith +6000
Jason Pierre-Paul +6000
Tyrann Mathieu +6000
Patrick Peterson +6000
Fletcher Cox +8000
Cameron Jordan +8000
Jadeveon Clowney +8000
Frank Clark +8000
Bud Dupree +8000
DeForest Buckner +8000
Fred Warner +8000
Devin Bush +8000
Leonard Williams +8000
Montez Sweat +8000
Richard Sherman +8000
Trey Hendrickson +8000
Rashan Gary +8000
Kyle Van Noy +13500
Darius Slay +13500
Offensive Rookie of the Year
Mac Jones +250
Trevor Lawrence +400
Zach Wilson +450
Justin Fields +700
Trey Lance +800
Najee Harris +1050
Kyle Pitts +1300
Javonte Williams +3000
Ja'Marr Chase +3000
DeVonta Smith +4000
Jaylen Waddle +4000
Elijah Moore +4000
Trey Sermon +4000
Rashod Bateman +6500
Davis Mills +6500
Jaret Patterson +6500
Kadarius Toney +9000
Kellen Mond +9000
Rondale Moore +9000
Terrace Marshall Jr +9000
Kyle Trask +11500
Defensive Rookie of the Year
Micah Parsons +450
Jamin Davis +500
Jaelan Phillips +850
Gregory Rousseau +1300
Zaven Collins +1300
Patrick Surtain II +1300
Jeremiah Owusu-Koramoah +1300
Jaycee Horn +1500
Kwity Paye +1500
Asante Samuel Jr. +1900
Jayson Oweh +2200
Joe Tryon +2200
Azeez Ojulari +2400
Caleb Farley +2700
Christian Barmore +3000
Greg Newsome II +3000
Trevon Moehrig-Woodard +3000
Nick Bolton +3000
Jabril Cox +5000
Baron Browning +5000
Eric Stokes +6000
Joseph Ossai +6000
Ronnie Perkins +6000
Payton Turner +6000
Comeback Player of the Year
Dak Prescott +180
Jameis Winston +180
Joe Burrow +750
Christian McCaffrey +1300
Saquon Barkley +1500
Odell Beckham Jr +1800
Nick Bosa +2000
Laurent Duvernay-Tardif +2500
Derwin James +3000
Von Miller +3500
Sam Darnold +3500
Danielle Hunter +4000
Tyrod Taylor +4000
Joe Mixon +4000
Jimmy Garoppolo +5000
Dont'a Hightower +7000
Kyle Long +7000
Coach of the Year
Brian Flores +1500
Brandon Staley +1500
Kyle Shanahan +1500
Kevin Stefanski +1500
Sean McVay +1500
Ron Rivera +1500
Bill Belichick +1500
Arthur Smith +1500
Sean McDermott +1700
Frank Reich +2000
Sean Payton +2000
Robert Saleh +2000
Matt Rhule +2000
Joe Judge +2200
Andy Reid +2200
Bruce Arians +2200
John Harbaugh +2200
Vic Fangio +2500
Matt LaFleur +2500
Pete Carroll +3000
Mike McCarthy +3000
Urban Meyer +3000
Mike Zimmer +3000
Mike Vrabel +3000
Matt Nagy +3500
Mike Tomlin +3500
Kliff Kingsbury +3500
Dan Campbell +4000
Nick Sirianni +4000
David Culley +5000
Jon Gruden +5000
Zak Taylor +5000
League Leaders
Regular Season – Most Passing Yards
Patrick Mahomes +360
Dak Prescott +450
Josh Allen +850
Matthew Stafford +1050
Aaron Rodgers +1500
Justin Herbert +1500
Joe Burrow +1500
Jameis Winston +1500
Tom Brady +1700
Matt Ryan +1700
Russell Wilson +3000
Kyler Murray +3000
Derek Carr +3500
Ryan Tannehill +3500
Kirk Cousins +3500
Ben Roethlisberger +4500
Jared Goff +4500
Lamar Jackson +6000
Baker Mayfield +6000
Tua Tagovailoa +6000
Carson Wentz +8000
Sam Darnold +8000
Trevor Lawrence +8000
Teddy Bridgewater +10000
Ryan Fitzpatrick +10000
Andy Dalton +10000
Daniel Jones +10000
Zach Wilson +10000
Jalen Hurts +10000
Cam Newton +13500
Jimmy Garoppolo +13500
Mac Jones +13500
Trey Lance +13500
Regular Season – Most Rushing Yards
Derrick Henry +360
Dalvin Cook +550
Nick Chubb +700
Christian McCaffrey +950
Jonathan Taylor +950
Saquon Barkley +1050
Ezekiel Elliott +1500
James Robinson +1500
Najee Harris +2200
Joe Mixon +2200
Aaron Jones +2400
Josh Jacobs +3000
Antonio Gibson +3000
Clyde Edwards-Helaire +3000
Chris Carson +4000
Lamar Jackson +4000
David Montgomery +4000
Myles Gaskin +5000
Miles Sanders +5000
Melvin Gordon +6000
Alvin Kamara +6000
Regular Season – Most Receiving Yards
Davante Adams +850
Calvin Ridley +950
Terry McLaurin +950
Stefon Diggs +1050
DeAndre Hopkins +1050
Tyreek Hill +1050
Justin Jefferson +1150
Travis Kelce +1300
D.K. Metcalf +1500
A.J. Brown +1600
Keenan Allen +1700
Julio Jones +2200
Amari Cooper +2200
Allen Robinson +2200
Michael Thomas +2200
Odell Beckham Jr +2200
Chris Godwin +2200
D.J. Moore +2200
CeeDee Lamb +2500
Mike Evans +3000
Adam Thielen +3000
Tyler Lockett +3000
Brandin Cooks +4000
Kenny Golladay +4000
Ja'Marr Chase +5000
Robert Woods +6500
Robby Anderson +6500
D.J. Chark +6500
Courtland Sutton +6500
Diontae Johnson +6500
Chase Claypool +7000
Jarvis Landry +9000
Antonio Brown +9000
Juju Smith-Schuster +9000
Cooper Kupp +9000
T.Y Hilton +9000
Brandon Aiyuk +9000
Jerry Jeudy +9000
DeVonta Smith +9000
Jaylen Waddle +9000
Regular Season – Most Sacks
Myles Garrett +750
Aaron Donald +850
T.J. Watt +950
Chandler Jones +1200
Shaquil Barrett +1700
Danielle Hunter +1700
Joey Bosa +1700
Nick Bosa +1700
Chase Young +1700
Za'Darius Smith +1900
Khalil Mack +2100
Josh Allen +2100؜
Brian Burns +2100
Von Miller +3000
Justin Houston +3000
Cameron Jordan +3500
Frank Clark +3500
Chris Jones +3500
DeMarcus Lawrence +3500
Bud Dupree +3500
DeForest Buckner +3500
Bradley Chubb +3500
Montez Sweat +3500
J.J. Watt +4500
Emmanuel Ogbah +4500
Leonard Williams +6000
Jadeveon Clowney +6000
Trey Hendrickson +6000
Jamal Adams +6000
Maxx Crosby +6000
Leonard Floyd +6000
Stephon Tuitt +6000
Romeo Okwara +6000
Dante Fowler +8000
Yannick Ngakoue +8000
Devin White +8000
Regular Season – Most Interceptions Thrown
Jared Goff +800
Jameis Winston +1050
Sam Darnold +1050
Zach Wilson +1050
Ryan Fitzpatrick +1150
Trevor Lawrence +1300
Ben Roethlisberger +1500
Jalen Hurts +1500
Tua Tagovailoa +1500
Daniel Jones +1700
Teddy Bridgewater +3000
Andy Dalton +3000
Matthew Stafford +3000
Kirk Cousins +3000
Baker Mayfield +3000
Kyler Murray +3000
Justin Herbert +3000
Joe Burrow +3000
Ryan Tannehill +3500
Dak Prescott +3500
Cam Newton +4000
Matt Ryan +4000
Derek Carr +4000
Jimmy Garoppolo +4000
Josh Allen +4000
Mac Jones +4000
Trey Lance +4000
Tom Brady +4500
Tyrod Taylor +4500
Russell Wilson +4500
Lamar Jackson +4500
Justin Fields +4500
Patrick Mahomes +14500
Aaron Rodgers +49500
Passing Props
Aaron Rodgers؜؜ Total Passing Yards Regular Season 4450.5
Over -115
Under -115
Aaron Rodgers؜؜ Total Passing Touchdowns Regular Season 35.5
Over -115
Under -115
Baker Mayfield؜؜ Total Passing Yards Regular Season 3950.5
Over -115
Under -115
Baker Mayfield؜؜ Total Passing Touchdowns Regular Season 28.5
Over -115
Under -115
Ben Roethlisberger؜؜ Total Passing Yards Regular Season 4025.5
Over -115
Under -115
Ben Roethlisberger؜؜ Total Passing Touchdowns Regular Season 28.5
Over -115
Under -115
Daniel Jones؜؜ Total Passing Yards Regular Season 3775.5
Over -115
Under -115
Daniel Jones؜؜ Total Passing Touchdowns Regular Season 23.5
Over -115
Under -115
Derek Carr؜؜ Total Passing Yards Regular Season 4125.5
Over -115
Under -115
Derek Carr؜؜ Total Passing Touchdowns Regular Season 25.5
Over -115
Under -115
Jalen Hurts؜؜ Total Passing Yards Regular Season 3700.5
Over -115
Under -115
Jalen Hurts؜؜ Total Passing Touchdowns Regular Season 20.5
Over -115
Under -115
Jared Goff؜؜ Total Passing Yards Regular Season 4000.5
Over -115
Under -115
Jared Goff؜؜ Total Passing Touchdowns Regular Season 21.5
Over -115
Under -115
Joe Burrow Total Passing Yards Regular Season 4300.5
Over -115
Under -115
Joe Burrow Total Passing Touchdowns Regular Season 25.5
Over -115
Under -115
Josh Allen؜؜ Total Passing Yards Regular Season 4525.5
Over -115
Under -115
Josh Allen؜؜ Total Passing Touchdowns Regular Season 34.5
Over -115
Under -115
Justin Herbert؜؜ Total Passing Yards Regular Season 4475.5
Over -115
Under -115
Justin Herbert؜؜ Total Passing Touchdowns Regular Season 30.5
Over -115
Under -115
Kirk Cousins؜؜ Total Passing Yards Regular Season 4125.5
Over -115
Under -115
Kirk Cousins؜؜ Total Passing Touchdowns Regular Season 28.5
Over -115
Under -115
Kyler Murray؜؜ Total Passing Yards Regular Season 4125.5
Over -115
Under -115
Kyler Murray؜؜ Total Passing Touchdowns Regular Season 25.5
Over -115
Under -115
Lamar Jackson؜؜ Total Passing Yards Regular Season 3400.5
Over -115
Under -115
Lamar Jackson؜؜ Total Passing Touchdowns Regular Season 26.5
Over -115
Under -115
Matthew Stafford؜؜ Total Passing Yards Regular Season 4575.5
Over -115
Under -115
Matthew Stafford؜؜ Total Passing Touchdowns Regular Season 27.5
Over -115
Under -115
Matt Ryan؜؜ Total Passing Yards Regular Season 4450.5
Over -115
Under -115
Matt Ryan؜؜ Total Passing Touchdowns Regular Season 27.5
Over -115
Under -115
Patrick Mahomes Total Passing Yards Regular Season 5000.5
Over -115
Under -115
Patrick Mahomes Total Passing Touchdowns Regular Season 38.5
Over -115
Under -115
Russell Wilson؜؜ Total Passing Yards Regular Season 4250.5
Over -115
Under -115
Russell Wilson؜؜ Total Passing Touchdowns Regular Season 33.5
Over -115
Under -115
Ryan Fitzpatrick Total Passing Yards Regular Season 3900.5
Over -115
Under -115
Ryan Fitzpatrick Total Passing Touchdowns Regular Season 22.5
Over -115
Under -115
Ryan Tannehill؜؜ Total Passing Yards Regular Season 4100.5
Over -115
Under -115
Ryan Tannehill؜؜ Total Passing Touchdowns Regular Season 29.5
Over -115
Under -115
Sam Darnold؜؜ Total Passing Yards Regular Season 3825.5
Over -115
Under -115
Sam Darnold؜؜ Total Passing Touchdowns Regular Season 22.5
Over -115
Under -115
Tom Brady Total Passing Yards Regular Season 4675.5
Over -115
Under -115
Tom Brady Total Passing Touchdowns Regular Season 36.5
Over -115
Under -115
Trevor Lawrence Total Passing Yards Regular Season 4100.5
Over -115
Under -115
Trevor Lawrence Total Passing Touchdowns Regular Season 24.5
Over -115
Under -115
Tua Tagovailoa؜؜؜ Total Passing Yards Regular Season 3875.5
Over -115
Under -115
Tua Tagovailoa؜؜؜ Total Passing Touchdowns Regular Season 24.5
Over -115
Under -115
Zach Wilson Total Passing Yards Regular Season 3775.5
Over -115
Under -115
Zach Wilson Total Passing Touchdowns Regular Season 21.5
Over -115
Under -115
Rushing Props
Aaron Jones Total Rushing Yards Regular Season 1050.5
Over -115
Under -115
Alvin Kamara؜ Total Rushing Yards Regular Season 925.5
Over -115
Under -115
Antonio Gibson؜ Total Rushing Yards Regular Season 1025.5
Over -115
Under -115
Austin Ekeler؜ Total Rushing Yards Regular Season 825.5
Over -115
Under -115
Chris Carson؜ Total Rushing Yards Regular Season 1000.5
Over -115
Under -115
Christian McCaffrey Total Rushing Yards Regular Season 1150.5
Over -115
Under -115
Clyde Edwards-Helaire؜ Total Rushing Yards Regular Season 900.5
Over -115
Under -115
Dalvin Cook Total Rushing Yards Regular Season 1375.5
Over -115
Under -115
Damien Harris؜ Total Rushing Yards Regular Season 875.5
Over -115
Under -115
D'Andre Swift؜ Total Rushing Yards Regular Season 900.5
Over -115
Under -115
David Montgomery؜ Total Rushing Yards Regular Season 950.5
Over -115
Under -115
Derrick Henry؜ Total Rushing Yards Regular Season 1525.5
Over -115
Under -115
Devin Singletary؜ Total Rushing Yards Regular Season 525.5
Over -115
Under -115
Ezekiel Elliott؜ Total Rushing Yards Regular Season 1100.5
Over -115
Under -115
Jalen Hurts؜؜ Total Rushing Yards Regular Season 675.5
Over -115
Under -115
James Conner؜ Total Rushing Yards Regular Season 575.5
Over -115
Under -115
Javonte Williams Total Rushing Yards Regular Season 800.5
Over -115
Under -115
Joe Mixon Total Rushing Yards Regular Season 1050.5
Over -115
Under -115
Jonathan Taylor؜ Total Rushing Yards Regular Season 1200.5
Over -115
Under -115
Josh Allen؜؜ Total Rushing Yards Regular Season 500.5
Over -115
Under -115
Josh Jacobs؜ Total Rushing Yards Regular Season 975.5
Over -115
Under -115
Kareem Hunt؜ Total Rushing Yards Regular Season 600.5
Over -115
Under -115
Kenyan Drake؜ Total Rushing Yards Regular Season 525.5
Over -115
Under -115
Kyler Murray؜؜ Total Rushing Yards Regular Season 675.5
Over -115
Under -115
Lamar Jackson؜؜ Total Rushing Yards Regular Season 925.5
Over -115
Under -115
Leonard Fournette؜ Total Rushing Yards Regular Season 650.5
Over -115
Under -115
Mike Davis؜ Total Rushing Yards Regular Season 775.5
Over -115
Under -115
Miles Sanders؜ Total Rushing Yards Regular Season 1000.5
Over -115
Under -115
Myles Gaskin؜ Total Rushing Yards Regular Season 775.5
Over -115
Under -115
Najee Harris Total Rushing Yards Regular Season 1025.5
Over -115
Under -115
Nick Chubb؜ Total Rushing Yards Regular Season 1325.5
Over -115
Under -115
Raheem Mostert Total Rushing Yards Regular Season 775.5
Over -115
Under -115
Ronald Jones II؜ Total Rushing Yards Regular Season 725.5
Over -115
Under -115
Trevor Lawrence Total Rushing Yards Regular Season 365.5
Over -115
Under -115
Zack Moss؜ Total Rushing Yards Regular Season 625.5
Over -115
Under -115
Receiving Props
Aaron Jones Total Receiving Yards Regular Season 425.5
Over -115
Under -115
Adam Thielen Total Receiving Yards Regular Season 1000.5
Over -115
Under -115
A.J. Brown Total Receiving Yards Regular Season 1200.5
Over -115
Under -115
A.J. Green Total Receiving Yards Regular Season 550.5
Over -115
Under -115
Allen Lazard Total Receiving Yards Regular Season 600.5
Over -115
Under -115
Allen Robinson Total Receiving Yards Regular Season 1125.5
Over -115
Under -115
Alvin Kamara؜ Total Receiving Yards Regular Season 675.5
Over -115
Under -115
Amari Cooper Total Receiving Yards Regular Season 1100.5
Over -115
Under -115
Antonio Brown Total Receiving Yards Regular Season 725.5
Over -115
Under -115
Antonio Gibson؜ Total Receiving Yards Regular Season 350.5
Over -115
Under -115
Austin Ekeler؜ Total Receiving Yards Regular Season 600.5
Over -115
Under -115
Austin Hooper Total Receiving Yards Regular Season 475.5
Over -115
Under -115
Brandon Aiyuk Total Receiving Yards Regular Season 900.5
Over -115
Under -115
Calvin Ridley Total Receiving Yards Regular Season 1375.5
Over -115
Under -115
CeeDee Lamb Total Receiving Yards Regular Season 1075.5
Over -115
Under -115
Chase Claypool Total Receiving Yards Regular Season 900.5
Over -115
Under -115
Chris Godwin Total Receiving Yards Regular Season 1100.5
Over -115
Under -115
Christian McCaffrey Total Receiving Yards Regular Season 725.5
Over -115
Under -115
Cole Beasley Total Receiving Yards Regular Season 750.5
Over -115
Under -115
Cooper Kupp Total Receiving Yards Regular Season 1050.5
Over -115
Under -115
Corey Davis Total Receiving Yards Regular Season 825.5
Over -115
Under -115
Courtland Sutton Total Receiving Yards Regular Season 1000.5
Over -115
Under -115
Curtis Samuel Total Receiving Yards Regular Season 700.5
Over -115
Under -115
Dallas Goedert Total Receiving Yards Regular Season 675.5
Over -115
Under -115
Dalvin Cook Total Receiving Yards Regular Season 400.5
Over -115
Under -115
D'Andre Swift؜ Total Receiving Yards Regular Season 375.5
Over -115
Under -115
Darnell Mooney Total Receiving Yards Regular Season 725.5
Over -115
Under -115
Darren Waller Total Receiving Yards Regular Season 1050.5
Over -115
Under -115
Davante Adams Total Receiving Yards Regular Season 1350.5
Over -115
Under -115
DeAndre Hopkins Total Receiving Yards Regular Season 1350.5
Over -115
Under -115
Deebo Samuel Total Receiving Yards Regular Season 875.5
Over -115
Under -115
Derrick Henry؜ Total Receiving Yards Regular Season 200.5
Over -115
Under -115
DeSean Jackson Total Receiving Yards Regular Season 550.5
Over -115
Under -115
DeVonta Smith Total Receiving Yards Regular Season 800.5
Over -115
Under -115
Diontae Johnson Total Receiving Yards Regular Season 975.5
Over -115
Under -115
D.J. Chark Total Receiving Yards Regular Season 875.5
Over -115
Under -115
D.J. Moore Total Receiving Yards Regular Season 1200.5
Over -115
Under -115
D.K. Metcalf Total Receiving Yards Regular Season 1275.5
Over -115
Under -115
Emmanuel Sanders Total Receiving Yards Regular Season 625.5
Over -115
Under -115
Eric Ebron Total Receiving Yards Regular Season 475.5
Over -115
Under -115
Ezekiel Elliott؜ Total Receiving Yards Regular Season 400.5
Over -115
Under -115
Gabriel Davis Total Receiving Yards Regular Season 600.5
Over -115
Under -115
George Kittle Total Receiving Yards Regular Season 1050.5
Over -115
Under -115
Gerald Everett Total Receiving Yards Regular Season 475.5
Over -115
Under -115
Henry Ruggs III Total Receiving Yards Regular Season 700.5
Over -115
Under -115
Hunter Henry Total Receiving Yards Regular Season 550.5
Over -115
Under -115
Jakobi Meyers Total Receiving Yards Regular Season 625.5
Over -115
Under -115
Ja'Marr Chase Total Receiving Yards Regular Season 950.5
Over -115
Under -115
Jamison Crowder Total Receiving Yards Regular Season 625.5
Over -115
Under -115
Jared Cook Total Receiving Yards Regular Season 550.5
Over -115
Under -115
Jarvis Landry Total Receiving Yards Regular Season 875.5
Over -115
Under -115
Jaylen Waddle Total Receiving Yards Regular Season 725.5
Over -115
Under -115
Jerry Jeudy Total Receiving Yards Regular Season 925.5
Over -115
Under -115
Joe Mixon Total Receiving Yards Regular Season 350.5
Over -115
Under -115
John Brown Total Receiving Yards Regular Season 575.5
Over -115
Under -115
Juju Smith-Schuster Total Receiving Yards Regular Season 825.5
Over -115
Under -115
Julio Jones Total Receiving Yards Regular Season 1025.5
Over -115
Under -115
Justin Jefferson Total Receiving Yards Regular Season 1300.5
Over -115
Under -115
Keenan Allen Total Receiving Yards Regular Season 1075.5
Over -115
Under -115
Kenny Golladay Total Receiving Yards Regular Season 950.5
Over -115
Under -115
Kenyan Drake؜ Total Receiving Yards Regular Season 350.5
Over -115
Under -115
Kyle Pitts Total Receiving Yards Regular Season 825.5
Over -115
Under -115
Laviska Shenault Jr. Total Receiving Yards Regular Season 775.5
Over -115
Under -115
Logan Thomas Total Receiving Yards Regular Season 650.5
Over -115
Under -115
Mark Andrews Total Receiving Yards Regular Season 825.5
Over -115
Under -115
Marquise Brown Total Receiving Yards Regular Season 800.5
Over -115
Under -115
Marvin Jones Total Receiving Yards Regular Season 775.5
Over -115
Under -115
Mecole Hardman Total Receiving Yards Regular Season 700.5
Over -115
Under -115
Michael Gallup Total Receiving Yards Regular Season 825.5
Over -115
Under -115
Mike Evans Total Receiving Yards Regular Season 1025.5
Over -115
Under -115
Mike Williams Total Receiving Yards Regular Season 850.5
Over -115
Under -115
Miles Sanders؜ Total Receiving Yards Regular Season 350.5
Over -115
Under -115
Najee Harris Total Receiving Yards Regular Season 375.5
Over -115
Under -115
Noah Fant Total Receiving Yards Regular Season 650.5
Over -115
Under -115
Odell Beckham Jr Total Receiving Yards Regular Season 900.5
Over -115
Under -115
Robby Anderson Total Receiving Yards Regular Season 950.5
Over -115
Under -115
Robert Tonyan Total Receiving Yards Regular Season 625.5
Over -115
Under -115
Robert Woods Total Receiving Yards Regular Season 1000.5
Over -115
Under -115
Rob Gronkowski Total Receiving Yards Regular Season 475.5
Over -115
Under -115
Russell Gage Total Receiving Yards Regular Season 725.5
Over -115
Under -115
Stefon Diggs Total Receiving Yards Regular Season 1375.5
Over -115
Under -115
Sterling Shepard Total Receiving Yards Regular Season 675.5
Over -115
Under -115
Tee Higgins Total Receiving Yards Regular Season 1000.5
Over -115
Under -115
Terry McLaurin Total Receiving Yards Regular Season 1150.5
Over -115
Under -115
T.J. Hockenson Total Receiving Yards Regular Season 800.5
Over -115
Under -115
Travis Kelce Total Receiving Yards Regular Season 1300.5
Over -115
Under -115
Tyler Boyd Total Receiving Yards Regular Season 850.5
Over -115
Under -115
Tyler Higbee Total Receiving Yards Regular Season 600.5
Over -115
Under -115
Tyler Lockett Total Receiving Yards Regular Season 1000.5
Over -115
Under -115
Tyreek Hill Total Receiving Yards Regular Season 1325.5
Over -115
Under -115